"A Good Pick If You're Not Going To Play Him"
January 10th, 2015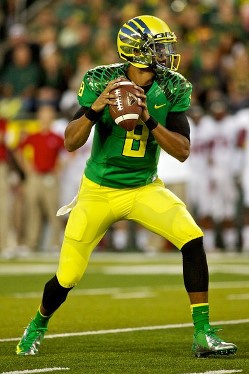 Marcus Mariota got a quite a backhanded endorsement from a Super Bowl-winning quarterback this week.
BSPN talking head and resident quarterback expert Trent Dilfer, who once tortured Bucs fans but made a Pro Bowl with Tampa Bay, joined the Ron and Ian show on WDAE-AM 620 to talk Bucs and QBs.
Dilfer was asked the money question on the minds of Bucs fans from Clearwater Beach to Lakeland: Who do you think should and will be the next Buccaneers quarterback?
"I think it should be Jameis Winston," Dilfer said. "I don't think there's a comparison between Jameis Winston and Marcus Mariota when it comes to being pro-ready. I think Marcus Mariota is a good pick if you're not going to play him. I think he has a chance to be a very good player in the NFL. He's got a great physical skill set. He's got a nice intangible makeup. He's a great kid, but he needs to learn a lot of football. He needs to learn how to play the quarterback position in the NFL.

" He needs to sit for a while. So if you, as an organization, can afford to sit him for a year, a year and a half, and play someone else, then he's a good pick.

"If you want a quarterback that can come in right away, be the face of the franchise, make plays on Sunday, get everybody to believe you've got hope, Jameis Winston's the guy."
Hmm, that was interesting.
Would the Bucs have the stomach to draft Mariota and park him on the bench for a year or more? That sure would be a tough sell to Bucs fans, who watched spread offense quarterbacks Cam Newton and Andy Dalton excel as rookies in 2011, even after missing the entire offseason.
The Bucs would need a "bridge quarterback" far better than Josh McCown to pull off a maneuver like that without a widespread fan uprising.
Joe's got full audio of the Dilfer interview below. It's quite good. Dilfer talked about regretting not listening to coaching during his early years, and much more.