Yesterday, Today And Tomorrow
December 22nd, 2014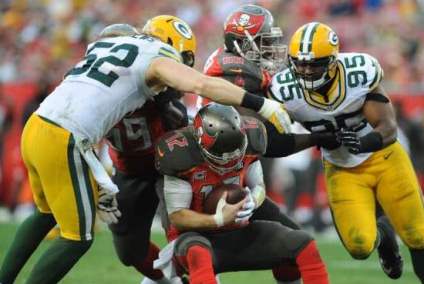 A long look at the Bucs yesterday, today, and what to expect tomorrow and beyond.
Joe has a headache.
Joe just cannot get out of his head that woeful lot the Bucs trotted out for offense yesterday.
That was supposed to be an NFL offense? In what world?
Joe has never, ever seen such a pathetic offense. These guys couldn't get out of their own way. Hell, if the Bucs constantly called quarterback sneaks they likely would have gained more yards (provided Josh McCown didn't fumble half of them).
The Bucs gained 16 yards on the ground against an average Packers defense. Sixteen! Mediocre Charles Smith had a negative yards per carry average. That is almost impossible.
Then again, he had Josh Allen blocking for him. Joe has never seen an offensive lineman so worked over like the Packers did Allen. Tim Allen could have blocked better, with better tools. Allen was so helpless, he made Oneil Cousins look like Tony Boselli.
Once, honest to goodness, Allen was blown off the line so badly, he was falling backwards and swinging his arms in the air to keep his balance, like someone who is tipping backwards in a chair. Joe had never seen such a thing in the NFL.
Rag on Jeff Tedford all you want but who in the hell had the epiphany to sign this motley lot of linemen: Anthony Collins, Cousins, Evan Dietrich-Smith, Allen and Garett Gilkey?
 Cousins and Gilkey came from the sad sack Browns as did their offensive line coach George Warhop. You might start there.
Defense Played Lights Out
Joe doesn't know how to describe it. Bucs defenders were some kind of PO'ed yesterday. Frustrated. They played lights out and were rewarded by watching the offense puke on their shoes on virtually every play.
They sold out yesterday and the offense hung them out to dry. They kept the Bucs in the game, a one-score game into the fourth quarter.
There was definitely a wall of tension in the locker room. Joe can only imagine what was being said before the doors swung open. All because the offense shat the bed play after play, wasting arguably the best defensive effort of the season.
Nice guy Alterraun Verner was so disgusted he confessed if the offense was going to go backwards, then it was up to the defense to bail them out and score touchdowns. A couple of other defenders were so enraged about the offense, they wouldn't even touch the subject when prodded. They said nothing, but body language told the full story.
Joe felt awful for Mason Foster. He may have played his last game for Tampa Bay. He re-injured his Achilles and is a free agent after the season. Joe heard from one of his sources that the team isn't exactly overwhelmed with Foster's overall play.
Foster looked like he was in a daze. Maybe it was the painkillers, but Foster was never that subdued. He spoke in hushed tones, staring with his eyes swollen and moist. Joe thought maybe he was in tears before the locker room opened.
Sacks
Hey, remember how everyone screamed bloody murder how the Bucs couldn't get enough sacks last year? It was one major reason then-commander Greg Schiano got launched. But looky, the Bucs just need one more sack next week to match last year's totals.
Funny. Joe hasn't seen a local radio outfit pull some cheap stunt to throw up billboards around town demanding a coach be fired, getting fans whipped into a froth, like they did helping kill Schiano's Bucs days. Bunch of gutless phonies.
Goodbye, Marcus
Someone has to take the fall for this heinous offense and that will be acting offensive coordinator Marcus Arroyo. Even Josh McCown threw the guy under the bus yesterday talking about how the team doesn't have an offensive coordinator.
Arroyo seems like a nice guy, but he was really over his head and barring the Bucs needing help in the mailroom, Joe cannot fathom the new offensive coordinator keeping Arroyo around.
Please grab your parting gifts on your way out, Marcus.
Suck It Up
Before yesterday, Joe had heard Lovie talk about how he has to do a better job of coaching. Many Bucs fans want him to throw himself into traffic on I-275, which isn't fair.
But it would go a long way to calming fans a little if Lovie would just say, "Look, I have to do a better job of coaching, of evaluation. Simple as that." That's not exactly throwing himself at the mercy of Team Glazer, but it would be refreshing and maybe make those who are not renewing their season tickets a moment to pause.
Oh, and last item on the Bucs:
Please lose Sunday.
NFL Thoughts:
Jags: Joe refused to watch this game between two of the most miserable teams in recent memory.
Redskins: Beautiful rally by Robert Griffin III to beat mighty Chip Kelly and the Eagles. Fun game to watch.
Chargers: Helluva comeback by Philip Rivers. Good thing then-general manager A.J. Smith traded for Rivers rather than drafting a left tackle, huh?
Stinking Panthers: Jonathan Stewart's short pass from Cam Newton late in the game cemented the sorry NFC South race. Panthers and Dixie Chicks play for everything on Sunday.
Lions: Joique Bell's 17-yard run put the Lions up for good in the fourth quarter, staging an NFC North title game of sorts with the Packers in Green Bay next week.
Texans: Randy Bullock's six field goals enabled Houston to upset Baltimore. Gutsy effort by Bill O'Brien's charges.
Dolphins: Ryan Tannehill threw a pair of touchdown passes and Dolphins' owner Stephen Ross was so giddy he announced Joe Philbin would return next week. A safety on a blocked punt won the game for Miami.
Dixie Chicks: Three field goals by Matt Bryant and an 86-yard fumble return by Osi Umenyiora put the Saints' season away.
Patriots: Tom Brady yada… yada… yada.
Steelers: Ben Roethlisberger and Le'Veon Bell were too much for the Chiefs.
Giants: Every once in a while the Giants surprise people with their offense. Odell Beckham had two touchdown catches and 148 yards against a damned stingy defense. Preston Parker of the Giants was run for his involvement in a brawl on the Rams bench.
Cowboys: Dallas simply seal-clubbed Andrew Luck.
Raiders: Donald Penn and his offensive linemen teammates only allowed one sack against the NFL sack leaders (Buffalo) to win their third game of the season. Derek Carr threw a pair of touchdown passes.
Seahawks: They sure look like the champ after hammering a good defense of the Cardinals. Russell Wilson went nuts, throwing for 339 yards and two touchdowns and running for 88 yards and a touchdown.
Scattered Thoughts
1. Thank you, Lords of the NFL, for putting Saturday football back in December. Those two games were very entertaining Saturday night. Greatly enjoyed them.
2. What a comeback by Philip Rivers, huh? Joe's not saying he is Roger Staubach or Joe Montana, but Joe has never seen an offensive lineman in his life score a couple of touchdowns late to pull out a win.
3. So what happened to this Chip Kelly magic? Half the world was on its knees as if Kelly is some new age Vince Lombardi. Sure seems kind of ordinary now, doesn't he?
4. Either Jay Gruden is working some magic of his own on RGIII, or RGIII isn't as bad as we may have thought he was. Nice win.
5. On Jameis Winston: In case you were in a drunken stupor yesterday and are just now sobering up, Winston was cleared in his conduct hearing about possible student code violations that alleged he got a little handsy with a girl. So now the cops never had enough evidence to charge and a retired state Supreme Court judge said there isn't enough evidence that he violated any student codes, a hearing which had a much lesser burden of proof than the cops or the State. Time to knock off the character assassinations of the kid.
6. Joe doesn't get where some (non-)football fans get off saying there are too many bowl games? If they make money, what's the problem? What kind of an animal thinks there is too much football? There is no such thing (unless the Jags are playing the Titans). Indeed!
7. Joe is proud to say he never saw one snap of the Titans-Jags game last week. Joe has a life.
8. Is anyone else tired of the "Where-will-Jim-Harbaugh-coach-next?" chatter?
9. Joe may have pulled off a miracle Saturday. He had to go to Walmart to pick up an item, but dreaded the thought since it was the Saturday prior to Christmas. The place was nuts, as you can imagine. But Joe somehow got in and out in 15 minutes! Good thing Joe ran into a clerk who was just opening up a register.
10. Pretty wild and sad about those fans getting zapped by lightning after the Bucs game yesterday. Joe doesn't ever remember that happening before. Given how often this area has lightning, especially in August and September, kind of surprising this is a first – at least, that Joe can remember. Hope everyone has a speedy recovery.