Jason Licht: Draft Boards Are Set
December 22nd, 2014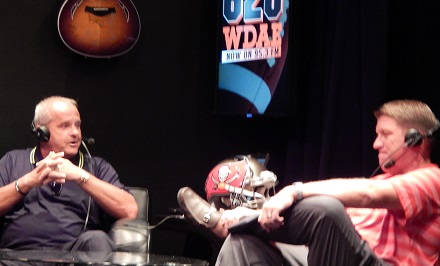 Man, Lovie Smith wasn't messing around last week when he said, "We feel like we know our roster right now, know exactly what we need to do going forward."
Yesterday, Joe learned general manager Jason Licht already has his draft boards set and expects little to change.
"We just got done with our first wave of draft meetings this week," Licht said on the Buccaneers Radio Network. "We spent seven days grinding it out with all of our scouts, setting the [draft] board initially that I don't forsee it changing a whole lot. My personal belief, I don't like changing the board too much after the underwear olympics of the [NFL Scouting] Combine. Just because a guy jumps high, we don't need to move him up. So that was very valuable time for us this week.

"I don't want to say tentative," Licht said of the current draft board. "We rank the players from top to bottom at every position. And then, you know, as soon as the season's over, we'll have the coaches get involved and they watch the top players, too. Then we have more meetings and we get together and figure out what exactly do we think we need and what players make the most sense."
Licht went on to say 300 potential rookie Buccaneers have been identified. He said the front office will "whittle that down to probably about 90 guys that really, legitimately, we want on our team."
Prompted with a Christmas-spirit question by Gene Deckerhoff, Licht said, "There's a lot of checking who's naughty and nice between now and the draft."
Of course, the Bucs don't know where they're picking yet (Lose, please.) and, per Licht, it seems Lovie Smith has yet to watch film of college prospects in great detail.
Man, Joe would love to watch the Mariota-Winston bowl on New Year's Day with Lovie or Licht.