Is A Glazer Vote Of Confidence Coming?
December 28th, 2014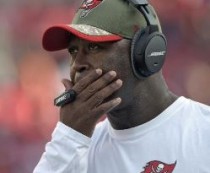 After a 3-13 season in 2009, one that at least delivered a strong finish and a talented quarterback prospect, Raheem Morris seemed to be on thin ice.
But Team Glazer went public shortly after the season finale to address the issue.
"We are committed to the plan that we began 12 months ago with Coach Morris, and we look forward to building on the pieces that were put in place this season," vice president Joel Glazer said in a statement released Monday night.
That was it. Short, sweet and to the point.
Joe's wondering whether Lovie Smith will get the same honor.
The Bucs are winless at home and the fan base doesn't have much hope to hang it's hat on — outside of the No. 1 or No. 2 overall pick in the draft. Yes, there are many fans who would like to see Lovie fired. And the confidence data on Lovie isn't good.
Joe is sure Lovie will return next season, but Joe is eager to hear Team Glazer offer it's take on 2014, even if that doesn't come tomorrow.