Who Is "Upstairs?"
December 15th, 2014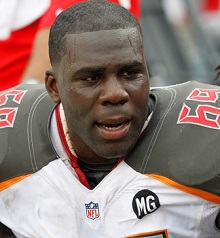 Joe brought word yesterday when Lovie Smith stated on the Bucs-Stinking Panthers pregame show that inconsistent left tackle Anthony Collins was getting benched and right tackle Demar Dotson would shift to fill Collins' spot.
After the game, Lovie said it was a "coach's decision."
It seems Dotson believes the call came from higher up the food chain.
Per the "Custodian of Canton," eye-RAH! Kaufman of the Tampa Tribune, Dotson dropped a curious source of the order that moved him to the left side.
"The decision came from upstairs and I bought into it,'' Dotson said after the Bucs rushed for 151 yards in a 19-17 loss to Carolina at Bank of American Stadium.

"They asked me at the beginning of the week and I embraced it. I think the last time I was at left tackle was a few years ago in training camp, when Donald Penn had a calf injury.''
So, the move was an order from "upstairs?" In NFL vernacular, that generally refers to the front office. Yet Lovie is the one who has final say in all football matters, hence why he is overlord of football operations.
So did general manager Jason Licht pull a power move on Lovie? Or did Licht persuade Lovie that they better begin looking to the future and see if Dotson can play left tackle if they need to wash their hands of Collins?
Or was this a well-thought out scheme where Licht, in effect, would play the fall guy so Lovie didn't have to play the heavy with Collins, even though he publicly said it was his call?
Or did the command come from higher up the ladder than Licht?
This is all very curious to Joe and, frankly, it is adding much needed drama and intrigue to such a lost season.