"We're Just Praying For Mediocrity"
December 3rd, 2014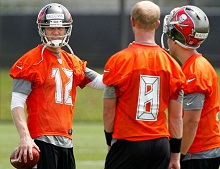 A former Buccaneer likens watching Tampa Bay quarterback play to how it feels when you stop "dating an ugly chick."
Yes, those are the words of Ian Beckles, a Bucs starting guard from 1990-1996. Beckles has been hammering the hapless Tanpa Bay offense for weeks on the Ron and Ian show on WDAE-AM 620.
"When you're watching Aaron Rodgers and those guys just be magicians, and I'm like, 'God, we're just looking for mediocrity. We're just praying for mediocrity," Beckles said.
Joe watched the Bucs-Bengals game again, and the offense was so inconsistent and unimaginative, it left Joe yearning, too.
Who knew Josh Freeman, Mike Williams and LeGarrette Blount's commanding seasons of 2010, and the balanced attack of 2012, were rare blessings to be savored like, um, dating a hot chick?
As for Beckles' take on the Bucs' problems counting to 12, he blamed the quarterback, saying McCown needed to "get somebody the hell off that field."
You can hear all Beckles' rants below, via the 620wdae.com audio player.