Three More Years For Louis Murphy
December 26th, 2014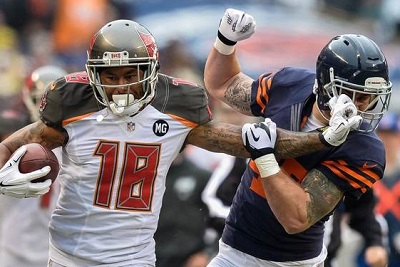 Louis Murphy proved he was no Tiquan Underwood this season. Or maybe he didn't?
Regardless, Murphy, like Underwood, came off the street and made a significant contribution to the Tampa Bay passing attack.
And he was rewarded with a three-year contract, per ProFootballTalk.com. Terms of the deal aren't out there yet, but Joe suspects it's nothing too significant. Joe would guess it's $4.5 million over three years with one year guaranteed.
The St. Pete native and former Gators standout is on injured reserve with an ankle injury, but Murphy finished the season with 31 catches for 380 yards and two touchdowns in 11 games played. It was his most productive season since the 2010 campaign with the Raiders. He turns 28 in May.
Props to the Bucs for moving quickly. There's no reason not to sign a guy like Murphy who provides quality depth. And he plays special teams, which Underwood did not.