"They Owe It To Football Fans"
December 6th, 2014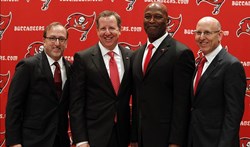 Yes, there are Bucs fans who want to see Tampa Bay lose its final four games so they can score big in the NFL Draft.
Joe can't root against the Bucs when the whistle blows, but some can.
Joe doesn't get that, but Joe doesn't get a lot of things, so to each his own.
Veteran sportscast Dave Wirth, of WTSP-TV, Ch. 10, says the Bucs are obligated to play to win, though he advocates changes. Check them out in this brief Lions-Bucs video preview below.