Marcus Arroyo's Last Stand
December 6th, 2014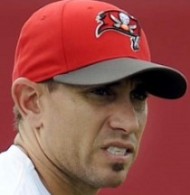 Over at One Buc Palace, preparations should be in full swing for Tampa Bay to be ready to hire the best offensive coordinator money can buy in 23 days.
However, Joe believes Lovie Smith yearns for a different path.
Lovie's dream scenario would be as follows:
The Bucs win their final four games with the offensive finally clicking to complement a defense that continues to be among the NFL's best, where they've been the past month.
Lovie then talks about how things just took a little extra time, and about how a certain team back in 1996 had a similar season and record.
The praise for Josh McCown, Lovie's handpicked quarterback, would reach record levels, and McCown would dump loads of credit on de facto offensive coordinator Marcus Arroyo and the bond they've built. Lovie then brings back Arroyo and doesn't have to dive into the transitional upheaval that often comes with a new offensive coordinator, especially a strong-minded, successful one.
Yes, Arroyo can still make a last stand and save his job. The odds are very long, and the Detroit Lions — in Detroit — are one of the toughest NFL tests for any offense right now.
No, Joe doesn't believe the Bucs can muster any offensive miracles, not with their quarterbacks. But Joe will enjoy pulling for Arroyo and McCown, a couple of good guys who appear to be way over their heads.