The Right Call At Quarterback — Finally!
December 28th, 2014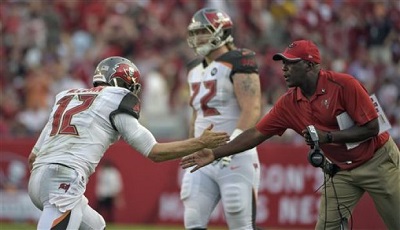 The moment Josh McCown walked off the Georgia Dome field with a thumb injury, after leading the Bucs to national television disgrace and an 0-3 record, it made no sense for him to return as the Bucs starting quarterback.
That was the time to go all-in with Mike Glennon, and Joe lobbied hard.
Even Warren Sapp was all-in.
Lovie Smith would have no part of it. He stuck Bucs fans with McCown for the past seven games — for no logical reason, as far as Joe's concerned. And the results have been historically dreadful.
But today, finally, is the right time to play McCown. The Bucs must lose to secure the No. 1 overall pick, and McCown is the best man for the job.
Heck, Joe would have deactivated Glennon today just to make sure nothing goes right wrong. Glennon already carved up the Saints pretty well in September, staying calming in the face of their repeated blitzes.
Joe's confident McCown won't have the same poise. Yes, the Bucs made the right call at quarterback today. Thank you, Lovie!