"Owners Are Dying For A Quarterback"
December 31st, 2014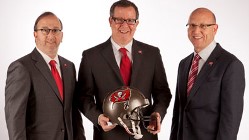 Joe has a hunch the gnawing feeling in the pit of Joe's gut won't go away until April. But there is a chance that pit could grow to full-blown depression.
It is the feeling that, after acquiring this rare, rare, rare opportunity to fill the biggest hole on their roster with a quarterback, the Bucs will screw the pooch and draft a nondescript offensive lineman.
As Joe has stated many times, winning trench warfare of the NFL is important, but Joe has never seen a left tackle lead a team 80 yards for a game-winning score.
A quarterback, if the Bucs pull the right lever — could lead the team to 12-15 years of winning football.
Well, it seems Team Glazer may be like-minded.
The "Custodian of Canton," eye-RAH! Kaufman of The Tampa Tribune, dropped the nugget that Team Glazer wants a signal-caller in the worst way. Kaufman explained during his weekly appearance with the one and only Chris "Mad Dog" Russo on the station that bears his name, "Mad Dog Radio," part of the family of sports channels heard exclusively on SiriusXM Radio,
Chris "Mad Dog" Russo: Now listen, I read the quotes from Lovie after the game where he was saying, 'We need help everywhere.' What do I take that to mean?

eye-RAH! Kaufman: You know what Chris, I'm changing my mind on this. I know I told you a month ago don't bet the house that they are going to take a quarterback. After watching Josh McCown all year — by the way, the final tally is in: He finished next to last among all ranked passers ahead of Blake Bortles, my man. Blake Bortles.

Russo: Wow (chuckles). And he played great last year for [Bears coach Marc] Trestman, maybe that should help Trestman get an offensive coordinator's job down the road?

Kaufman: I think it could. I think it could. And of course, they have to hire an offensive coordinator here. There are a lot of things in play. You have the first pick in the draft, you have an offensive coordinator and the owners are dying for a quarterback. Of course, there's no Andrew Luck here, but you know what? I don't see an Orlando Pace or I don't see a Bruce Smith in this draft, either. And to me, if you are going to take a chance, you take a shot at a Winston or a Mariota and maybe you get lucky and maybe all is good.
It's reassuring to learn Team Glazer wants a quarterback. Look, Team Glazer had better be heavily involved with this pick because, if the right guy is selected (or the wrong guy), it will have far-reaching effects long after Lovie Smith is gone. This pick will not just influence Lovie's job security (or lack thereof) but the wealth of the team for decades.
Look, rarely does a head coach last 10 years with a club. The few who do (Bill Belicheat, Tom Coughlin, Andy Reid with the Eagles) all have one thing in common: A stud franchise quarterback that led them deep into the playoffs many times.
Teams that have slop for a quarterback, like the Bucs have trotted out in recent years, don't win more than they lose. Sorry.
Bucs general manager Jason Licht does not impress Joe as a guy who is going to leverage his career on an accident (that a sixth-round pick of a quarterback can blossom into a Hall of Famer).
At least, Joe sure as hell hopes not.