The Jacksonville Wrench
December 31st, 2014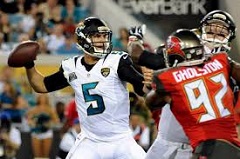 The Jaguars firing their offensive coordinator yesterday was the last thing the Bucs needed: a hungry fish in the sea of teams searching for a new signal caller — a team with a young, talented quarterback and a defensive-minded head coach.
Man, the NFL is a tough business. Ousted Jags offensive coordinator Jedd Fisch had a rookie QB, a rookie center and three rookie wide receivers, and flimsy talent at tight end.
Now, franchise quarterback prospect Blake Bortles, the first arm taken in the 2014 NFL Draft, gets a brand new playbook to learn. The pressure on him will be great, as his head coach, Gus Bradley, enters next season on the proverbial hot seat.
But Joe doesn't care about the Jags. The Bucs now have to outhustle Jacksonville for the best available coordinator, and Tampa Bay won't have much of a leg up (if any) on selling nice weather, no state taxes, and young QB talent.
Funny how Jacksonville, sans an offensive coordinator, seems to have no issue taking its staff to coach the Senior Bowl after the Bucs passed on the chance to get extra intimate with potential draft picks.