Tedford Hire Expected This Week
December 17th, 2014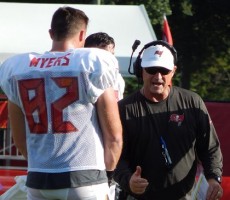 It's somewhat ironic that Jeff Tedford is about to become head coach of the Candian Football Leagues' B.C. Lions, per a report in The Province.
Is there a professional football team farther from Tampa on the North American mainland?
A story in The Province pegs dives into the activities of Tedford with his prospective new team and reports they expect him to be unveiled as head coach this week, assuming financial terms can be ironed out.
Tedford has ties to the team's general manager, Wally Buono.
Tedford and Buono, meantime, go back several decades, having coached together for three seasons, starting in 1989 with the Calgary Stampeders. It was Tedford and Calgary coach John Hufnagel who devised the six-receiver offensive scheme which eventually became commonplace in three-down football.

Tedford may now soon get a chance to perfect the package. CKWX reported that he had dinner Sunday night with Buono and Lions defensive co-ordinator Mark Washington. Tedford met staffers at the team's facility Monday, including U.S. scouting director Ryan Rigmaiden, prior to another dinner meeting with other assistant coaches.
As Joe's written previously, Tedford jumping to the CFL, when he could work in college or the NFL, at least as a quarterbacks coach, is very telling.
A CFL gig is nowhere near as stressful as an NFL job. Coaches there just don't put in the same number of hours year-round. The CFL season is longer than the NFL's, but there's much more down time in the offseason. Head coaches earn about 90 percent less than their NFL counterparts, and the majority of players earn less than ($75,000 Canadian).
It'll be interesting to see what Tedford says publicly — or doesn't say — about his time in Tampa.