Solomon Patton: Take 2
December 2nd, 2014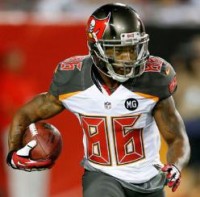 Cue the circus music.
The Bucccaneers have re-signed rookie return man/wide receiver Solomon Patton, the same guy they cut six weeks ago.
When Patton was sent to the street, Lovie Smith said his team was looking for a spark in the return game that wasn't showing up on Sundays.
That spark was Trindon Holliday, who was waived injured with a bad hamstring from the Giants this summer. Holliday landed with the Bucs in October and injured his hamstring, prompting the signing of jelly hands Marcus Thigpen.
Meanwhile, Patton landed on Arizona's practice squad and is now back in Tampa on the 53-man roster, which is mandatory when a team signs a practice squad guy away from another team.
Bobby Rainey looked solid catching and returning on Sunday against the Bengals. He didn't make mistakes that Joe could tell, certainly nothing glaring.
Joe is somewhat perplexed by the Patton signing. If he wasn't worth keeping on a 1-5 team six weeks ago …