Licht Impressed By Shining Brate
December 2nd, 2014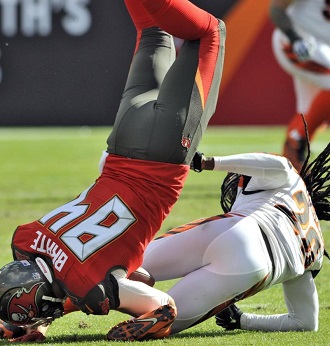 Just like last year (Tim Wright), the fourth-ranked tight end to open the Buccaneers season has made a mark.
That doesn't happen often in the NFL.
Seen by Joe struggling at times through training camp, undrafted rookie tight end Cameron Brate has ben impressing behind the scenes, Bucs general manager Jason Licht said Sunday.
Brate, a Harvard man with an economics degree, made his NFL debut Sunday. His first start saw him look pretty solid serving as a fullback, and he caught a 17 yard ball from Josh McCown, a sharp route from the slot.
"There's a lot of people that love the upside that Cameron has, including myself," Licht said on the Buccaneers Radio Network. "Smart, smart guy from Harvard. Athletic, he can catch the ball. He needs to be a little bit bigger, a little bit stronger, develop over time. But now his time has come a little bit earlier than we expected it. And we'll see what happens.

"You know he loves football because he could be making more money than most people right now with his brain, but he chooses to keep after football."
A practice squad guy, which Brate was until last week, typically earns about $6,000 a week during the regular season. So, yes, Brate might have found better employment with his fancy economics degree. But Joe doesn't care about that. Joe was just happy to see the kid look like a real tight end — block, and catch the ball and absorb a shot.
Joe's not expecting a Tim Wright story and emergence, but it would be great to see Brate get a good look through the final four meaningless games.