Road, Sweet Road
December 19th, 2014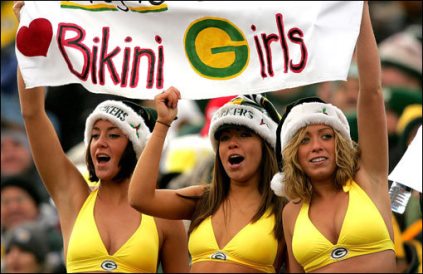 Oh, once the NFL released the schedule this past April revealing the Bucs were going to host the Packers the weekend prior to Christmas, Joe knew the cheeseheads would flock to the Den of Depression.
The game didn't take long to sell out, as just about every Packers fan, both tranplanted locally or residing north of I-80, seemed ready to celebrate Christmas on the west coast of the east coast with their beloved Packers.
How many? Well, it could be half the stadium.
Pete Dougherty of the Green Bay Press-Gazette puts fingers to keyboard and remembers back in 1997, the last season of the Sombrero, which also was a playoff season for the Bucs. There were so many Packers backers at the game Brett Farve had to raise his hands for the Packers fans to quiet down, so he could call plays at the line of scrimmage.
Sunday, Dougherty writes, could be a repeat 17 years later.
But this week has the makings of another '97, and maybe even more. Is it out of the question that half the crowd (about 33,000) will be Packers fans? Maybe even more?

On a purely practical level, it's hard to know how much of a difference that kind of crowd mix would make on the game's outcome. Maybe quarterback Aaron Rodgers would be able to use mostly voice signals calling the no-huddle offense, which he usually can't on the road.

More importantly, Rodgers might not have to use a silent count as much as usual on the road, which would negate one of the home field's greatest advantages. If it's quiet enough for Rodgers to use a voice cadence, his linemen can anticipate the snap and get a split-second head start on pass rushers. With the silent count, the blockers often have to watch the ball, so there's no head start.
Just to get an idea of how the Packers and their fans are treating this game like a spring break trip, a homecoming and company retreat all in one, the official Packers fan club is having rallies Saturday at Ferg's Sports Bar and Grill in St. Petersburg and at the Varsity Club in Clearwater. Packers alumni, Packers radio voice Wayne Larrivee and Packers president Mark Murphy will make appearances and speak to the throngs.
Think about that for a second.
Could you imagine the Bucs playing in Green Bay and at some sports bar in, say, De Pere, WI, Bucs fans would gather to mingle with Gene Deckerhoff, Brad Johnson, Jimmie Giles, Scot Brantley, Derrick Brooks and, yes, Team Glazer?
As Packers coach Mike McCarthy suggested in his teleconference call this week to the Tampa Bay pen and mic club, if one ever experienced a December in northeast Wisconsin, they would understand why cheeseheads are invading the area and attending Sunday's game.