Report: Tedford Signs Deal, Will Earn $375,000
December 19th, 2014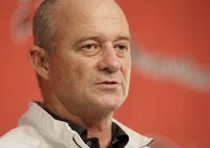 The "artist" formerly known as Buccaneers offensive coordinator Jeff Tedford has a new job — while his old team has a game Sunday in Tampa.
Man, Hollywood screenwriters couldn't have concocted what's happened to the Bucs the past two seasons.
Per a report by B.C. Lions (CFL) beat writer Lowell Ullrich, of The Province, Tedford has accepted the Lions' head coaching job and will be introduced today. In a previous story, Ullrich said Tedford would earn "around the $375,000 mark annually."
Joe's going to assume that's Canadian dollars, which is bad news for Tedford. The current exchange rate has $1.16 Canadian only fetching $1.00 in the U.S.
Joe really believes Tedford going to the CFL offers insight into Tedford's health. Yes, Joe believes Tedford is healthy. But healthy enough to work the grueling year-round schedule of an NFL assistant coach? That's another story.
CFL coaches bust their butts, too, but it's nowhere near the same year-round commitment.
Joe wishes Tedford well. There's no doubt in Joe's mind Tedford wanted to lead the Bucs to glory until an act of God changed his life.