"Optimistic"
December 27th, 2014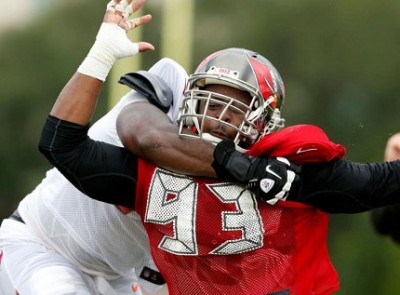 "The camera loves me," says Gerald McCoy in a new video posted today on Buccaneers.com.
It's a sit down with McCoy in which he hits on a few Bucs and personal topics. One is Lovie Smith. McCoy is asked to play word association and gets "Lovie Smith" tossed at him.
McCoy responds, "Optimistic."
The Bucs' stud defensive tackle goes on to explain how Lovie has never wavered and always finds positives in every negative outcome.
You can watch the full video above.
Joe thinks McCoy is great, but Joe knows a faction of fans will be troubled by how smiley and happy McCoy is, as one the most painful seasons in Bucs history comes to a close.