"On The Verge" Of What?
December 21st, 2014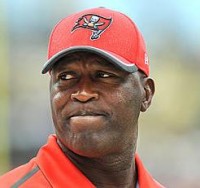 "Except for three games this year, we've been in every one. So I think true football fans can see that we are on the verge. We have built a foundation. We're not there yet. But in time we will win football games around here, and win a lot of football games. Going through tough times like this, going through adversity like we're doing. It's making us stronger." —Lovie Smith, Monday, Dec. 15, on the Buccaneers Radio Network.
Lovie Smith proudly uttered the stunning quote above on Monday. It was painful and confusing for Joe to hear. Is Lovie seeing something Joe and Bucs fans everywhere are not?
Joe really doesn't get the "on the verge" assessment.
The Bucs were non-competitive today for the fourth time this season, twice in the past three weeks. And it was no surprise.
That's not "on the verge." Perhaps Lovie really was talking about the NFL Draft?
What most disturbs Joe is the Bucs don't look like an angry, violent, hungry football team. They don't look they're building anything going into next season.
At least Raheem Morris won two of his last three in the rebuilding year of 2009.