McCown Can't "Camouflage And Compensate"
December 4th, 2014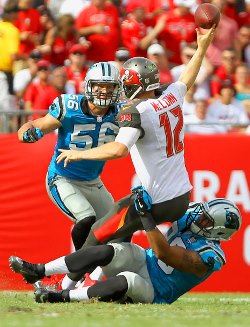 Joe sure hopes Mike Glennon Mob members weren't listening to NFL Films longtime film guru Greg Cosell break down the Bucs today. They might have started banging their heads against a wall again.
Cosell hopped on the WHFS-FM 98.7 airwaves and battered Josh McCown.
You can hear the full audio here.
Cosell said fans need a "dose of realism" when it comes to McCown because he just simply is not an NFL starter.
Among other takes, Cosell said McCown has proven he's not the kind of quarterback good enough to "camouflage and compensate" for a bad offensive line like the Bucs'. Cosell referenced holding the ball too long and missing reads.
Joe would add that McCown's effective use of his legs seems to have disappeared. Lovie Smith was adamant that McCown was a mobile and athletic quarterback. But Bucs fans haven't seen very much of that the past couple of games.
Joe's has calmed his rage that Glennon, 10 years younger than McCown, is on the bench in this lost season. But Cosell's words got Joe fired up.
Can we please just do the smart thing and let Glennon finish out the season?