Marvin Lewis Got One Over On Bucs
December 1st, 2014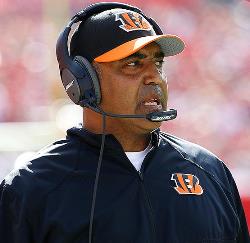 It was a crazy sequence. The Bucs had just gotten into field goal range in the waning seconds with 12 players on the field. All kinds of people had their head up their rear end including the 12th man — you can decide who to blame — as well as the refs.
Yes, there are multiple referees who are supposed to count the players on each team. They also blew it. Marvin Lewis didn't.
The almost-Bucs head coach who now mans the helm of the Bengals threw his challenge flag. You can't challenge that play in the final two minutes of the game. It still worked as it woke up the officials upstairs to take a look anyway.
Football rules guru Mike Pereira of Fox Sports details the cluster that essentially cost the Bucs a chance at a game-winning field goal.
Cant show the sequence (CBS game) but here is everything to know about Marvin Lewis' challenge in 4th qtr Via: @kfc https://t.co/iXTdk8xVOs

— Mike Pereira (@MikePereira) November 30, 2014