Finally, Real Talk From Lovie
December 1st, 2014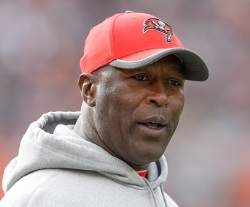 In the past few weeks, when Bucs coach Lovie Smith stood behind a microphone and said with quiet confidence the Bucs were only two wins from a division lead, Joe knew what Lovie was trying to do.
Still, it made Joe want to ram his head into a wall.
It was all but saying he was happy the Bucs had but two wins, and no one in their right mind thought the Bucs were a playoff team no matter what kind of hopscotch math Lovie chose to use.
Well, as upset as Joe was at how the Bucs lost (UH-gen) yesterday, Joe found it refreshing Lovie has finally come to grips that the Bucs are an awful football team.
"That's how 2-10 football teams play," Lovie said. "Found a way to lose it at the end. Did some good things defensively, played hard throughout, taking the ball away from them, playing hard right up until gave us an opportunity to win the football game. But when you make dumb, stupid penalties like that throughout the game it ends up biting you at the end, which it did. Again we're a 2-10 team; not a good feeling at all. Thought we were really prepared for the game but the results didn't show that."
Thank you, Lovie. Bravo! Joe is happy you are finally calling out your team and being straight up and real with folks.
Now the defense is playing good. The offense? It is a freaking nightmare of the highest order.
To hear more from Lovie's postgame presser yesterday, click the arrow below. Audio courtesy of Joe's friends at WDAE-AM 620.