Lovie's Greatest Mistake
December 28th, 2014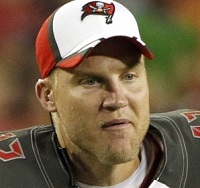 Josh McCown was Bruce Gradkowski bad this season.
Go look at the numbers. Go watch the game film.
This was Lovie's hand-picked quarterback.
If you believe Jeff Tedford and Jason Licht watched all the film of free agent quarterbacks and all the game tape of QBs entering the draft and came up McCown, then Joe's got beachfront property in Temple Terrace to sell you.
Yes, Lovie evaluated the Bucs' quarterback position and picked McCown, an old career backup, a never-had-been.
It's Exhibit A why Lovie should be out of the QB business.
Exhibit B is not sitting McCown down after the debacle in Atlanta and going all-in with Mike Glennon.
Joe sincerely hopes Team Glazer and Licht gang up on Lovie and take him out of the quarterback-picking trade. Lovie should defer to the scouts and his new offensive coordinator. It's the right thing to do.