Lovie: Urgency & Patience Will Mark OC Search
December 29th, 2014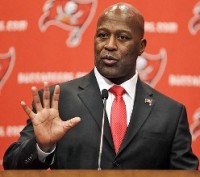 Lovie Smith was asked all kinds of questions about his pending offensive coordinator search at One Buc Palace today.
It's already started, Lovie conceded, and it's a premium priority.
In summary, Lovie said he's not ruling out college coaches, and he's eager to talk to potential candidates still employed by NFL playoff teams.
Lovie said the only order he'll have for a coordinator is to have a balanced offense that's successful. The head coach joked that contrary to public opinion, he's not interested in running the ball 99 percent of the time.
The head coach conceded that picking a coordinator to mesh with a potential draft pick is a part of the equation in narrowing the search.
As for whether he'll evaluate his offensive coaches without a new coordinator in place, Lovie said he doesn't plan on it, but he reminded media that he is the Bucs' overlord of football operations.
"I'm gonna, in the end, I'm going to make all the decisions, like I'm responsible for everything in our program," Lovie said. "I'd like to get the coordinator in position, and from there, we'll go forward."