Lovie Eager For Season's End
December 24th, 2014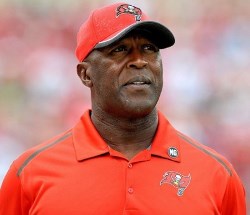 With one more loss, this horrific Bucs season will go down as one of the very worst in franchise history. Given this team's gruesome past, that is saying a lot.
Football coaches love to coach. But even Bucs coach Lovie Smith is tapped out.
With the drain of 13 losses tugging at his shirt, Lovie admitted yesterday to the Tampa Bay pen and mic club he is sure looking forward to putting this season behind him and working to remedy the disaster.
Lovie was asked if he sort of wished the season was longer so he could evaluate younger players. Lovie quickly set the record straight.
"I know when you're in this season – the sooner we end it, the quicker we start the next one as I see it," Lovie said. "I'm looking forward to that next stage. I'm talking an awful lot about next, next, next when we have New Orleans coming up, so I'm a little uncomfortable about what we're going to do later on. Again, this week is about finishing it off the right way and we have time for everything else."
Joe can't blame Lovie. The fans, save the eager souls pulling for the Bucs to secure the No. 1 pick in the draft, are sick of this season, too. It's ugly.
And like Lovie, fans already set their sights on next year, specifically, the free agent dinner bell in March and the draft in April.
For many fans, the 2014 season was thrown out with the empty beer cans back in October.