Be Vigilant, Team Glazer!
December 24th, 2014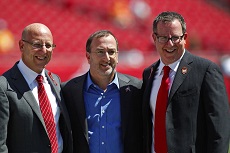 Joe can't emphasize enough how important it is for the Bucs to score the No. 1 overall pick in the 2015 NFL Draft.
The Bucs have the No. 2 pick locked up, but that's nowhere near good enough.
Joe made this often overlooked point on the radio yesterday, but it bears repeating. Marcus Mariota or Jameis Winston could blow a knee next week, or in the national title game.
Then what?
All those Bucs fans content with beating the Saints on Sunday and having just the No. 2 pick will be banging their heads against a wall — unless they're in the lunatic fringe that doesn't think the Bucs should draft Mariota or Winston. (Joe repeats, a left tackle never led his team to a game-winning scoring drive. Solid left tackles can even be found on the street. Just ask the Raiders.)
Joe already wrote about how there is no elaborate con game out there that can fool Bucs fans or Team Glazer. The Bucs must lose Sunday because it's in the best interest of the franchise. Period. There is no middle ground.
Joe hopes Team Glazer is being vigilant and demanding that Lovie Smith find a way to lose. Please, Team Glazer. Please.
Thankfully, Josh McCown is starting Sunday. That's a good start. Joe would start Garrett Gilkey at center, Josh Allen at right guard, sit Mike Evans, and re-sign Sabby The Goat to play safety immediately. And why not see how Leonard Johnson can match up man to man on Jimmy Graham.
Nobody should be satisfied with winning Sunday. A win Sunday is a loss.
Simple as that.