Lions 34, Buccaneers 17
December 7th, 2014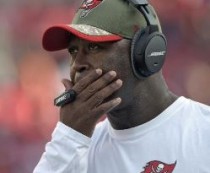 When Lovie Smith was hired, the clearest goal he stated was to make the Buccaneers "relevant" in 2014.  How about "competitive," Coach?
Yes, Tampa Bay is irrelevant. They have been for weeks. Even the improved defense took a step backwards today in Detroit.
Are the Bucs even a physical, hungry-looking, angry-playing team? Joe doesn't think so. Good things are happening, but not nearly enough.
The blame game is a broken record. Lovie is failing on several fronts. The sloppiness on offense never ends.
Matthew Stafford was 26-for-34 for 311 yards and three touchdowns. The Bucs didn't force a turnover out of the Lions offense. Detroit had only scored more than 30 twice this season, against the Giants and Bears, two lousy defenses. They don't have a super offense.
Detroit was 7-for-14 on third down before their kneel-down series. The Bucs missed too many tackles and made life way to easy.
Major kudos to Mike Evans for his two touchdowns, and to Vincent Jackson for a heck of a day, sans one drop.
It's off to Carolina, which just blew out the Saints in New Orleans.