Bucs Are Hopeless With Josh McCown
December 7th, 2014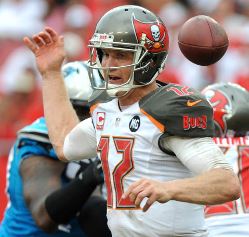 Joe can't take it any longer. If Josh McCown is your Bucs starting quarterback next season, then this team has no hope. And season ticket sellers at One Buc Palace have no hope to earn commissions.
McCown is the NFL equivalent of bringing a knife to a gunfight.
It is pointless, hopeless and, quite frankly, irresponsible of any coaching staff to hoist this career third-stringer as some angel that can lead a team to a .500 season much less a playoff berth — even in the dreadful NFC South.
In the first half, it was same old McCown. Throwing nowhere near his receivers, nearly being picked off countless times, throwing into tight triple-coverage in the end zone and fumbling snaps.
Hell, Jameis Winston could do that, in his first game!
If the dumbass Lions had a brain, they would have prevented the Bucs and McCown from throwing up a pass for Mike Evans to catch for a score. If you pick off a pass in the end zone, go down! Fortunately for the Bucs, the Lions still play with their heads up their arses.
If Lovie Smith is really going to try to sell the ticket-buying public that McCown can win with the Bucs next season — and that means wanton disregard for the passing game — then quit the con and go full-blown wishbone (which Joe is convinced the majority of Bucs fans want the way they wet their beds at night whenever the discussion of drafting Winston comes up).
Look, McCown is a great guy and a hard worker. So is Joe's neighbor and no team wants him for a starting quarterback in the NFL.
If you don't believe in quarterback play, then just trade Mike Evans for an offensive tackle. Why waste Evans' talents with a slug who can't throw?
Stop the madness Lovie, will you?