Jay Cutler And The Bucs
December 19th, 2014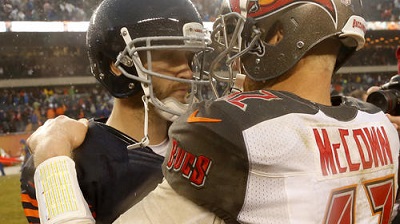 There's lots of local and national speculation about bratty Jay Cutler and Lovie Smith potentially reuniting in Tampa next season. Even NFL.com is talking.
Joe finds the notion ludicrous.
However, if the Bears are willing to trade Cutler for Michael Johnson, and Lovie really believes the Bucs are "on the verge," then maybe the thought of a Cutler transplant isn't thoroughly insane.
Joe still wouldn't do such a thing. Don't mis-read anything here.
Cutler is a talented but toxic teammate prone to erratic play. He's also paid like an elite starting quarterback, despite being average. But he is a far better quarterback than anyone the Bucs have on the roster. And there's always a shot the Bucs win a game and miss their chance to score a top college quarterback.
Cutler has gushed openly about his love and respect for Josh McCown. The two were like brothers last year in Chicago, when McCown's presence on the Bears seemed to soothe the bratty out of Cutler.
In the spring, McCown told Joe that he and Cutler led the private preseason workouts for the entire Bears offense, so it quickly could learn the Marc Trestman playbook. McCown said Cutler's leadership led to the Bears' having the No. 2 ranked offense in 2013.
Again, Joe's not lobbying for Cutler, but the Bucs are desperate at QB, and Joe would hardly be shocked if Lovie Smith sought a familiar face, a guy that guided his Bears to the No. 2 seed in the NFC in 2010, and the NFC title game.
If the Bears were willing to take the ugly Michael Johnson contract of the Bucs' hands, and perhaps Anthony Collins, then maybe they'll find someone willing to listen in Tampa.