Jameis Watch: Pocket Passer Revival
December 4th, 2014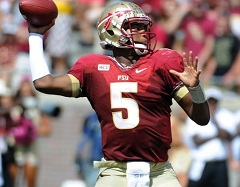 Crab-legs-stealing, BB-gun-shooting, obscenity-hollering, Heisman-Trophy-winning, national champion James Winston, the pride of Florida State University, continues to look like a much better quarterback prospect than Mike Glennon and Josh McCown.
It's Joe's daily nugget on the Jameis Watch, celebrating the best quarterback to wear No. 5 ever in the state of Florida.
Great old school Peter King writing in a piece he penned about drafting quarterbacks for theMMQB.com yesterday.
King explored the trend of a league a little down on mobile QBs. He checked in with various sources, including former Bucs rockstar general manager Mark Dominik and the godfather of all things NFL Draft, Gil Brandt.
"Let me tell you this,'' Gil Brandt, the draft guru of draft gurus, said Tuesday night. "I think we're slowly, slowly going back to the age of pocket quarterbacks."

That factors in to this story. More and more general managers I speak with are hesitant about putting their quarterback at the kind of risk so many mobile quarterbacks are in these days. Look at the young, athletic playoff quarterbacks last year. Colin Kaepernick, declining. Cam Newton, declining. Russell Wilson, treading water. Andrew Luck is athletic but also effectively functions in the pocket; he's certainly a rising star. But there's been a hey-wait-a-minute moment when it comes to mobile quarterback as the wave of the future. And it's because, obviously, mobile quarterbacks are getting the tar beaten out of them in the NFL today.
There's much more to King's piece, but the point here is that young Jameis Winston is a pocket passer playing in a pro-style offense. And he also can move.
Also interesting from King is his speculation that Colin Kaepernick and Cam Newton could be available on the market this offseason. Boy, that could lead to some wild action on Day 1 of the draft.