Jameis Watch: Hypocrisy
December 19th, 2014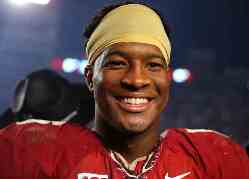 Crab-legs-stealing, BB-gun-shooting, obscenity-hollering, Heisman-Trophy-winning, national champion James Winston, the pride of Florida State University, continues to look like a much better quarterback prospect than Mike Glennon and Josh McCown.
It's Joe's daily nugget on the Jameis Watch, celebrating the best quarterback to wear No. 5 ever in the state of Florida.
For reasons that are starting to become clear, Joe didn't understand the absolute rage and vile that Florida State quarterback Jameis Winston evoked out of some people for the past year.
Winston has become sports' biggest villain since Barry Bonds, and Bonds largely was loathed because he was such a miserable arsehole and cheater.
Winston? He's done far better in his short sports career than Bonds ever had. Quick, what did Bonds ever win?
Yes, Winston was involved in an investigation over a hassle with a girl. Charges were never filed against him; the criminal case was closed.
And for Joe, it was closed as well. We live in America, not some banana republic. If there is not enough evidence for a charge, a party remains free. Joe understands this is not a popular theory on Twitter.
Joe traveled to cover some Bucs road games and, naturally, on Saturdays before the Bucs game, wandered into watering holes to watch college football. Since Florida State has been chasing national titles the past two years, their games were almost always on a big screen no matter what town Joe happened to be in.
The vile reactions Winston evoked from folks in bars took Joe aback. Cocky, criminal, dumb, are only a few of the printable words people hollered at the TV screens about Winston.
Man!
From where this rage came, Joe wasn't sure. Sadly, weekly it seems, we learn of college athletes getting into hassles with the cops. Charges that stick and result in a sentence of some sort.
Yet Joe has never seen nor heard people freak out like they do and have over Winston. Why? Joe couldn't put his finger on it but it was unsettling.
Then, last night, while avoiding that pile of horse dung that was the Titans at Jags game, Joe came across the following on his Twitter feed:
Zach Mettenberger was actually charged with sexual assault in college, Jameis wasn't, who do you hear more about? #TENvsJAX

— Lacy McMullen Jr (@mcmullenforus) December 19, 2014
Well now.
Joe did some digging.
Per Marc Weiszer of the Athens Banner-Herald, Mettenberger offered a guilty plea — he didn't go to trial, he fessed up.
Former Georgia quarterback Zach Mettenberger pleaded guilty Monday to two counts of misdemeanor sexual battery, saying he is taking "full responsibility" for his actions.

Mettenberger grabbed the breasts and buttocks of a woman at Flip Flops, a bar near Valdosta, on March 7, according to Southern Judicial Circuit District Attorney J. David Miller. The victim was an employee of the bar but not working that night, Miller said.

"He was at the bar and was highly, highly intoxicated," Miller said. "He grabbed the young lady in places he had no business placing his hands."
Mettenberger served a year's probation and 80 hours of community service for his debt to society.
Now let's think about this. The way some folks freak out over Winston, it is as if he is Charles Manson, that he will stain a community and wreck a franchise, both outrageous notions. But that is the reaction Winston provokes.
Mind you, Winston has professed his innocence all along. Again, he was not charged. Mettenberger plead guilty, which often brings lesser charges to the crime. You know, a plea deal?
Have you read or heard anyone wail about Mettenberger playing for the Titans? Or that he should be thrown in jail for decades? Of course not.
With Winston? The world will come to an end. Joe is convinced cutting off Winston's right hand wouldn't satisfy some the way they freak out over Winston.
Double-standard? You damned right. Hypocrisy? Absolutely.
Then it hit Joe where the base of all this rage is against Winston. What's the difference between Winston and Mettenberger, other than one admitted guilt in a crime and the other was never charged?
You shouldn't need a calculator to add this up.