Jameis Watch: "Derrick Brooks Would Take This Guy In"
December 24th, 2014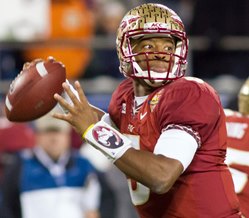 Crab-legs-stealing, BB-gun-shooting, obscenity-hollering, Heisman-Trophy-winning, national champion James Winston, the pride of Florida State University, continues to look like a much better quarterback prospect than Mike Glennon and Josh McCown.
It's Joe's daily nugget on the Jameis Watch, celebrating the best quarterback to wear No. 5 ever in the state of Florida.
Man, it sure seems like 90 percent of Bucs fans can't stand up they are so at attention for Marcus Mariota. Where the love comes from is really interesting.
Joe reads guys who once made a living in the NFL breaking down players, and few rate Mariota over Winston as a quarterback (not counting the off-field nonsense). But Bucs fans, well, the vast majority are convinced Mariota will shame Jameis on an NFL field.
For those Mariota fans, the "Custodian of Canton," eye-RAH! Kaufman of the Tampa Tribune, has some information that is verbal coal in the stocking.
Kaufman has had his ear to the ground listening for rumblings of the Bucs' plans this April, and he is starting to believe if the Bucs do pick a QB with the No. 1 overall pick (assuming the Bucs do the right thing and lose Sunday), Winston is the choice over Mariota.
The reason? Look no farther than one of the greatest Bucs players of all-time, Hall of Fame linebacker Derrick Brooks.
This is the bombshell Kaufman dropped on the one and only Chris "Mad Dog" Russo Tuesday, on the channel that bears his name, "Mad Dog Radio," part of the family of sports channels heard on SiriusXM Radio.
eye-RAH! Kaufman: I think there is a better chance they go for Winston. I'm starting to think more Winston than Mariota because [Florida State] runs more of an NFL-style offense. Let me throw something out — can I give you a little scoop, young man?

Chris "Mad Dog" Russo: Always from you, Ira. Always from you.

Kaufman: All right, here we go: I'm thinking they might be leaning towards Winston for this reason and I asked somebody, "Hey, do you think maybe they would do that because Lovie Smith would have a calming influence on Winston and help him mature quickly in the NFL?" And they said, "It wouldn't be Lovie Smith, it would be Derrick Brooks."

Russo: Oh, really?

Kaufman: Derrick Brooks would take this guy in, maybe even into his house that first year. He's an FSU alumni, proud of it. I tell you what, if anybody could work on Winston, it would be Derrick Brooks.
This makes so much sense Joe cannot believe he didn't think of it before. Arguably no one in Tampa knows Winston like Brooks. He is very close to the FSU football program and is a fixture at most home games.
Brooks has even Twittered out photos of himself and his son with Winston from the Seminoles locker room after yet another Winston win (that's all he does). Brooks also is tight with FSU coach Jimbo Fisher.
And we all know how close Brooks is to the Bucs and his former linebacker coach, Lovie Smith.
This all adds up. It's no lock the Bucs draft Winston, but they have the best big brother for Winston in their backyard, better than any NFL team could have.