Jahri Evans On Bucs' Radar?
December 27th, 2014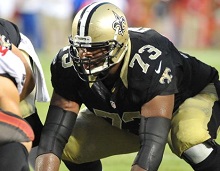 Joe knows many Bucs fans are sick and tired of Band-Aid moves on the offensive line.
Logan Mankins was brought in to heal a preseason wound that wouldn't scab.
It still hasn't.
Demar Dotson at left tackle? It's a nice idea, but what are Dotson's odds of transitioning into a solid left tackle at 30 years old? What a stunner it would be if Dotson can pull it off.
Bucs fans, some of them, also are leery of former Saints offensive linemen. The Jeff Faine experience and Carl Nicks' health issues (pre-MRSA) have many wondering whether it's a red flag when Saints head coach Sean Payton is willing to wave goodbye to an O-lineman.
Many reports out of New Orleans claim the Saints need to cut salaries and Pro Bowl guard Jahri Evans is a prime target for release. Evans, 31, is heading to his sixth consecutive Pro Bowl, but this NOLA.com story explains why he might be on the free agent market soon.
The mysterious, typically nameless and faceless film geeks over at ProFootballFocus.com claim Evans' play has dropped off considerably, though Joe trusts them about as much as Bill Belicheat.
Joe points all this out because the Bucs need help on the offensive line. That might be the understatement of the year. If Evans is cut, a Saints salary cap casualty, then how could the Bucs not at least assess his market value and value to a team trotting out Patrick Omameh and Josh Allen at right guard?
Evans is a guy Bucs fans can keep an extra eye on Sunday.
You never know what the Bucs might do. Remember, Lovie Smith says the team is "on the verge."