"It Sucks"
December 28th, 2014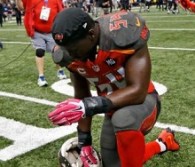 Lavonte David was not a happy guy in the Bucs' locker room.
David was looking to make a rare early exit after the loss to the Saints but Joe and a couple of other reporters caught up to him as he was headed for the exit.
David appeared frustrated when asked about how Buccaneers starters were pulled late in the game, including himself.
"Oh, man. Ain't nothing to say. Ain't nothing really to say. I guess it was just the coach's call to take the guys out," David said. "So we just played with the cards that was dealt to us.
The Bucs' top linebacker asked about going winless at home.
"It's disappointing. It sucks," David said.
David wasn't angry or rude or anything like that. But it was a different postgame demeanor for David, major league frustration.
Joe suspects David will be happier next season, when the Bucs have an offense that's not an embarrassment.