Here Comes The Three-Step Drop
December 4th, 2014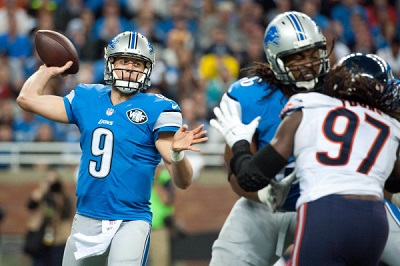 Before the Lions roasted the Bears on Thanksgiving — yes, they've had 10 days to prepare for Tampa Bay — Detroit hadn't scored a touchdown in 22 drives spanning eight quarters.
Holy drought!
But the Lions and Matthew Stafford very much revived their offense versus Chicago. Having Calvin Johnson back sure helps.
Joe can smell what's coming next.
Not only have the Bucs struggled against three-stop drops this season, but Stafford has been great at them through the years, though Detroit got away from that a bit this year. Some Detroit observers believe, in part, that's why Stafford has taken more sacks in 2014.
Regardless, Joe expects the Lions will make the Bucs prove they can shut down that three-step drop, especially now that the Bucs' pass rush looks respectable.
This insight from Golden Tate, the Lions' other wide receiver, was interesting. He penned it on his blog at the Lions' official website.
One thing I noticed from our last game that we did a good job of was we got in a rhythm. We were in and out of the huddle. We ran the ball extremely well. Joique showed up big for us, especially with Reggie being out. On top of that, I think nine different guys caught passes from Matt, so no guy was feeling pressure to make a play all the time. Matt was going through his reads, finding the open guy and we were hitting them pretty tough.
Yes, the Lions' offense got healthy and confident against the Bears, like most NFL teams not named "Tampa Bay" have done this season. But Joe suspects the Lions didn't become a special offense overnight.
Again, Joe thinks the Lions will try to keep that rhythm going and make the Bucs D-line uncomfortable. One of the best ways to do that is those pesky three-step drops.