Father Dungy Blesses Marcus Mariota For Bucs
December 15th, 2014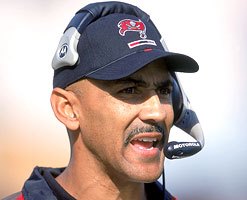 Bucs icon Father Dungy is endorsing potential NFL stud quarterbacks again.
In March, Dungy gave his full backing to Johnny Football, saying, "If I'm committed to winning, I'd take him."
Today, per NFL.com, Dungy blessed University of Oregon gunslinger Marcus Mariota as a future superstar. And Dungy took it a step further. He named a certain floundering Florida football team as a top destination.
Dungy was on "The Dan Patrick Show" on Monday morning and gushed about Mariota, calling him "Aaron Rodgers in the waiting." He also said Mariota would be "perfect" for the Tampa Bay Buccaneers, who presumably will be interested in drafting a quarterback and should have one of the earlier picks in the draft.

Dungy coached the Bucs from 1996-2001 before moving on to coach the Indianapolis Colts from 2002-08; he guided the Colts to the Super Bowl title in the '06 season.

Dungy knows a lot about Mariota: Dungy's son, Eric, was a wide receiver at Oregon from 2011-13 before finishing his career this season at USF.
So there you have it. Father Dungy has issued his blessing, not long after he stated the Bucs should be starting Mike Glennon.