A Few Thoughts On Lovie Smith's Job Security
December 15th, 2014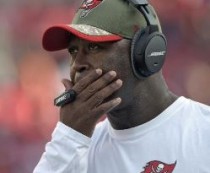 With a 2-12 record and staring down the barrel of a 2-14 season — in perhaps the worst division in NFL history — and guiding a Bucs team many thought talented enough to be winners, Lovie Smith has earned questionable status when it comes to job security.
And Joe's really sick and tired of hearing fans and media types spout off about how Team Glazer would never fire Lovie with three guaranteed-salary years ($15 millionish) remaining on his contract.
That's the equivalent of saying Team Glazer only cares about money, and there's no evidence of that.
This ownership group ousted Chucky with three years and $15 million left on his contract, following consecutive 9-7 seasons. The guy was an icon and won a Super Bowl and three division titles.
The owners bounced Greg Schiano with three years left on his five-year, $15 million deal, and Schiano had a built in excuse for last season's slide — a franchise quarterback gone mental and The MRSA infecting his locker room.
For those not paying attention, Team Glazer is a very wealthy bunch.
Just last week, the BBC dove into a pending stock sale by Bucs co-chairman Ed Glazer. It makes buying out coaches' contracts look like a paltry transaction. And that stock deal represents just a fraction of Ed Glazer's assets, per the BBC, part of the big pie members of the Team Glazer conglomerate hold.
Joe's not calling for Lovie's head here. There are two games to play, and there's much, much more to assess. But the concept that Lovie is rock-solid safe is ludicrous. It's also not reflective of how savvy business owners operate.
Joe is confident Team Glazer will scrutinize Lovie's 2014 performance and weigh how hiring a new offensive staff factors into the overall picture, as it relates to football, finances and fan opinion.
Nothing is guaranteed, though Joe expects Lovie back next season.
What would and should lock down Lovie's return, however, is something called a victory. Winning a home game or two isn't too much to ask — neither was stopping Derek Anderson and Greg Olsen for the second time this season.