Evans Vows To Help Bail Out Defense
December 3rd, 2014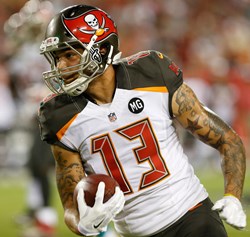 In the past three weeks, the Tampa Bay defense has given up just under 14 points a game. In Joe's eyes, any time you can limit an NFL team to 14 points or less, you should win those games.
The Bucs are not winning the games.
That's because of the offense, not the defense ,which was much-maligned earlier in the season and for good reason. Now, the defense is once again the pride of the Bucs.
This is beginning to be noticed by offensive players. Earlier this week, arguably the top Bucs player on offense, rookie receiver Mike Evans, discussed the disparity between the offense and the defense.
"We've got to do better [on offense], I know that," Evans said. "Our defense played great, especially the past few games. They've been playing great and we haven't been helping them much. We've got to get that going. Our defense is stronger than our team right now. We've got to help them."
Evans isn't the only offensive player who seems the gap between the output of the offense and the defense. Running back Bobby Rainey told WFLA-TV Channel 8 after Sunday's game that the offense needed to start living up to their end of the bargain. Josh McCown talked about it last night on the Buccaneers Radio Network.
If the offense could have gotten one extra touchdown in four of the past six games, the Bucs' record would be far different than the current one that has local authorities increasing their reconnaissance of the Sunshine Skyway Bridge.