Doug Martin Addresses Team Meeting Attendance
December 14th, 2014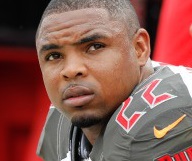 Doug Martin spent his previous two seasons playing for bad Greg Schiano football teams.
Did those teams quit in December?
Speaking on Total Access on the Buccaneers Radio Network on Friday night, Martin was asked about whether his current teammates are a little down now that the Bucs are out of the playoff chase.
Martin's response included what Joe believes is a telling nugget of Martin's past experience.
"Not at all. Nobody's [saying], 'We're not making the playoffs.' No one's showing up late, you know, for meetings or anything, or anything like that," Martin said.

"The attitude is that, like I said, we're playing for each other. We still have these three games left and we're going to play hard until this season is done."
Why would Martin even reference tardiness in a lost season,"or anything like that," if he hadn't seen it before?
Back in 2012, the then 6-7 Buccaneers were hammered in New Orleans 41-0. It was a stunning defeat by a bad Saints team. Jonathan Casillas, who was on that Saints team and joined the Bucs in 2013, told Joe he could see "quit" on the Bucs that day. Casillas said his Saints teammates were all talking about it.
Last year, the Bucs also rolled over late in the season.
Joe suspects Martin has seen what quit looks like at One Buc Palace. Hopefully, it won't reappear today — or this month.