Depressing
December 9th, 2014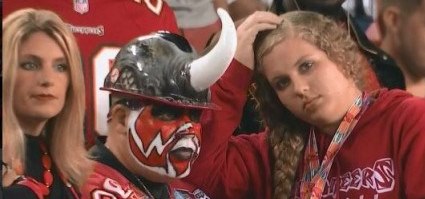 Though some fans disagree, drama is the staple of a sports team's popularity. Without drama (and wins and the chase for a championship is very much drama), you have apathy. And then you are irrelevant.
The only thing keeping the Bucs relevant in this putrid of all putrid seasons is the hunt for the No. 1 overall in next spring's draft. Without it, the Bucs are nothing more than the Jags without the first-round-pick quarterback, his big-breasted blonde, cleavage-baring former girlfriend, and fancy, hi-def replay boards.
How ugly has the season become? Well a journalist for no less a publication than the august Wall Street Journal Twittered out the blues he finds himself in on a weekly basis thanks to the Bucs.
There is no more depressing weekly news than Tampa Bay Buccaneer starting quarterback updates.

— Kevin Clark (@KevinClarkWSJ) December 9, 2014
This may come as a shock to many of Joe's readers, but Joe doesn't get to watch a load of NFL games live, only because Joe is always working. When the Bucs are playing, say, a 1 p.m. game, Joe misses the rest of the 1 p.m. games and most of the 4 p.m. games.
But late Sunday, thanks to the magic of DirecTV's NFL Sunday Ticket, Joe had a chance to watch Andrew Luck and, of course, watched Aaron Rodgers and Matty Ice last night. It is really jarring to the senses to see NFL teams actually use their quarterbacks as weapons, as offensive assets, when you are watching the Bucs on a weekly basis.
Sometimes, Joe thinks he is watching a fiction movie, seeing quarterbacks lead their teams down the field multiple times a game, scoring touchdowns and not just trying to hide a quarterback and praying said quarterback doesn't fumble a snap twice a game.