Danny Lansanah's Breakout Game
December 3rd, 2014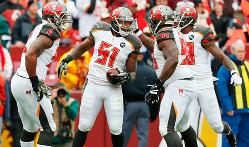 Yes, there is much to pick apart from last Sunday's near-win over the AFC North leading Bengals.
It was game where the defense may have had its best outing, holding Cincinnati to just two scores while picking off puking Andy Dalton three times in the first half alone.
The defense was surprisingly stout without the services of Lavonte David. The Bucs' tackling machine was sidelined again with a bum hamstring. In his place stepped Danny Lansanah and, with all due respect to David, he was hardly missed.
Lansanah was downright beastly. He was all over the field. And the spreadsheeters over at Pro Football Focus noticed his play, as typed by Sam Monson.
Danny Lansanah, LB, +6.2

Breakdown: This was one of those games where it felt like every play was Lansanah making a stop, and it almost was! He finished with 14 tackles, one assist and 12 defensive stops while playing well against both run and pass.

Signature Stat: Lansanah led the team with 12 defensive stops. The next best figure was three, from Akeem Spence.

PFF Game Ball

It may have come in a losing effort, but the display put forth from Danny Lansanah was immense in this game. Was a huge reason the Bengals couldn't just grind out the game late on and the Bucs had chances to mount a comeback.
This season has had a lot of lows, bumps, bruises and reasons to run to the toilet to yack. Lansanah is one of the good things.
Just think: He was a scrub from the UFL buried on the Jets practice squad when he came in last year as — at best — a bubble player. Not only is he now starting, but making a major impact.
Joe doesn't think it is much of a coincidence that the defense began to play better when Lansanah was named a full-time starter.