Collins Pancaked By Elbow
December 5th, 2014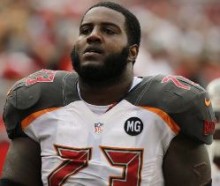 Once upon a time in August, the thought of Oneil Cousins starting for the Bucs seemed scarier than a naked Rosie O'Donnell.
Nowadays, it's almost comforting.
Starting left tackle Anthony Collins has been a spectator at practice this week with an elbow injury and appears set to miss his third start of the season in Detroit on Sunday. Cousins likely would start for him.
In November, when Cousins started for Collins in Cleveland, the Bucs ran the ball extremely well in the first half and a physical Cousins was a big part of that. In all, he had a solid game. His performance slipped a peg against Atlanta the following Sunday, but not too bad.
Collins has been for playing poorly for a while now, so Joe's not losing any sleep. Hopefully, rookie Kevin Pamphile will get some reps in this meaningless game.
Bobby Rainey and Austin Seferian-Jenkins also missed practice time this week, including today, so it looks like recovered Luke Stocker will get the call at tight end, and Charles Sims will get more work in the backfield. Rainey primarily has been used in passing situations over the past two games, and Joe expect most of those reps would fall to Rainey.