Becht On O-Line Doom
December 23rd, 2014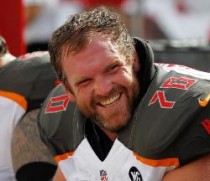 How critical is the situation on the Buccaneers' offensive line?
Former Bucs tight end Anthony Becht says if the Tampa Bay can't generate a fast fix, then they're looking at multiple years of doom.
 Becht dove into this and other topics on WDAE-AM 620 this week.
"This the main area that has to get cleaned up immediately because if not, you're talking about a couple more years getting set back," Becht said of the offensive line.  "And you gotta find ways to get this fixed."
Becht has long maintained that the Bucs' running backs are just fine.
On Anthony Collins, he said the "insides" aren't there and the Bucs just swung and missed on a guy who didn't give the same output after getting a big paycheck.
You can listen to all of Becht's takes below.