Barber: Personnel Holes On Both Sides Of Ball
December 11th, 2014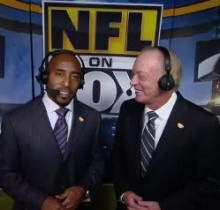 Bucs icon Ronde Barber is a big fan of Oakland rookie quarterback Derrick Carr, especially after studying him for Barber's FOX game call of the Raiders-49ers game last Sunday.
Tampa Bay, however, starts Josh McCown, and Barber is no fan of his.
The future Hall of Fame hopped on CBS Radio with his brother Tiki this week and talked about his beloved but woeful Bucs. Barber says the team has major personnel issues.
Among other things, Barber talked about "misses in free agency" and "serious flux" in the offensive coaching staff. Barber also says the defense has its share of holes.
"It's frustrating if you're a Bucs fan because you expected Lovie Smith to come in and the resurgence of some of the things we used to do back in the day, and it just hasn't materialized" Barber said.

"The defense is very vanilla. They play a lot of Cover-2. And that's a personnel-driven scheme, Tiki. You know, you gotta have studs. You gotta have a great rush end. You gotta have a great 3-technique, which they do have in Gerald McCoy. But the guys around him have got to be outstanding role players, and they just don't have that kind of production."
Not a lot of optimism floating around the Bucs these days.
There's even some uproar and disagreement at JoeBucsFan.com world headquarters. Not everyone thinks the Bucs have turned the corner on defense. Some are more in line with Barber and Derrick Brooks, who referenced serious D-line woes yesterday.