10 Reasons The Bucs Need The No. 1 Pick
December 12th, 2014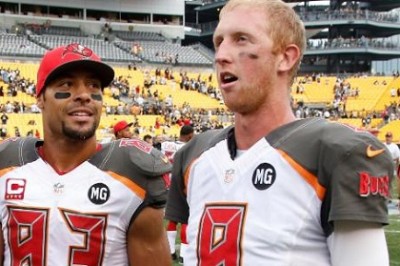 Marcus! Jameis! Marcus! Jameis! Marcus! Jameis! Marcus! Jameis! Marcus! Jameis!
Oh, what a maniacal frenzy it will be if the Bucs maintain their current 2015 draft position, the No. 1 overall pick.
But that specific No. 1 slot is critical.
Consider the analysis of the Around the League crew at NFL.com. They've identified 11 teams on the hunt for a new starting quarterback. Of course, the Bucs are one of them, so that leaves 10 big reasons the Bucs need that No. 1 pick.
Here's the order they provided, ranked by desperation level:
Bills
Jets
Texans
Titans
Redskins
Rams
Cardinals
Eagles
Browns
Bears
Yes, plenty of teams could be eager to trade up and leapfrog the Bucs in the draft. The quest for a franchise QB can make owners and teams do crazy things. And it seems there will only be two of those guys on the table: Marcus Mariota and Jameis Winston.
The Bucs would be in quite a pickle if they have, say, the No. 4 overall pick and realize they need to draft a quarterback. They'd almost be forced to trade up to make sure they got their guy.
One giant factor that makes the No. 1 pick attractive is the ability to hire a new offensive coordinator that would best suit the team's preferred potential QB. The Bucs could actually know what stud QB they plan to draft when they go through the OC hiring process. What a big fat plus that would be.
It's fun to dream, but Joe is still bitter the Bucs didn't draft a quarterback this past spring. What a flushed opportunity. The Bucs could have Mike Evans and a premier QB prospect right now.