Who Is In Charge?
November 3rd, 2014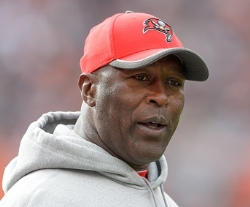 You know why the Bucs are horrible this year? You know why the Bucs stink out loud? It starts at the top with Lovie Smith.
The Bucs have done an awful job evaluating talent; there are way too many examples. And who is the overlord of all football operations, who has final say on who sees the field? Lovie.
The Bucs coaching staff has done a terrible job. A clear "F" grade if there ever was one. Who is the head coach? Lovie. Well, Joe thinks so, but is beginning to wonder.
Consider the curious comments from Lovie after the Bucs lost yesterday to the Browns, a game in which the Bucs ran the ball at will in the first half but all but abandoned the run in the second half, inexplicably so.
"Yes, we probably should have run the ball," Lovie said of play selection the second half. "I'd like to have a couple of those calls back."
So Lovie wanted to run the ball, eh? Who the hell is the head coach, anyway? Lovie cannot order acting offensive coordinator Marcus Arroyo, who sure seems over his head, to run the ball? Why?
Yeah, more runs might have been nice, especially on the Bucs' final drive that had a critical second-and-one with just two minutes to go, a drive that stalled.
This right here folks is why Lovie gets an "F" grade unless something turns around soon, which Joe doesn't foresee.
A rudderless ship.