When The Implosion Started …
November 29th, 2014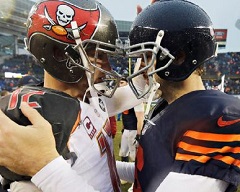 The Bucs thoroughly imploded against the Bears last Sunday. The Tampa Bay offense crumbling and giving the game way to a truly garbage defense was astounding.
But it was the way they folded that was most troubling. Veteran Buccaneers failed them across the board.
Here's a breakdown.
Joe was brave enough to watch the game a couple of times, and after a big play (three broken tackles) by Louis Murphy left the Bucs at the Bears' 37 yard line with 1:28 left in first half, that's when the Bucs came apart.
Yeah, the Bucs caved in after their own big play, which Murphy capped off with his personal foul for a face mask.
False start Anthony Collins
Drop Bobby Rainey
Needless block in the back by Logan Mankins
Collins lets Jared Allen beat him inside. Josh McCown gets hit while he throws. Incomplete.
3rd-and-23 great completion to Vincent Jackson. First down.
Dumpoff to Rainey. Four yards.
Sharp short throw to Brandon Myers. 1st-and-goal from the 10!
McCown takes needless sack. Held ball too long.
McCown, appears nervous, throws ball away in back of end zone, not giving Vincent Jackson a chance for a jump ball.
McCown throws wobbly duck into end zone for Mike Evans in between five Bears defenders. Lucky not to be picked off.
Field goal. 10-0 Bucs.
HALFTIME.
Bucs start at own 15 after poor Marcus Thigpen return.
Doug Martin hit in the backfield and falls forward. One-yard gain.
McCown overthrows Doug Martin. Nearly picked off.
DELAY OF GAME! That's on McCown.
Holding Dietrich-Smith (what kind of offensive lineman holds on a screen?). Incomplete (overthrow McCown). Penalty declined.
Punt.
NEXT BUCS DRIVE, now 10-7 Bucs.
Sims: five-yard run.
McCown: Overthrow, incomplete.
FALSE START: Dotson
3rd-and-10: Bears blitz. Blitz picked up but Patrick Omameh beaten 1-on-1. Sack.
Punt.
During the next Bucs drive is when McCown senseless scrambled five yards backwards and to his left on 2nd-and-9 late in the third quarter. Dotson gave up on his man, who stripped McCown, who was holding the ball like a toddler holding a bag of Halloween candy. Bucs fumble. Bears take the lead en route to victory.
Again, what was most disturbing was the implosion by all these veterans — at a point where the Bucs had a chance to bury the Bears. And then it all continued after halftime.
There was no regroup by the alleged veteran leader McCown. It was McCown falling apart himself time after time.
Some of the offensive line woes are just a lack of want-to. You can see it clearly.
Joe's not sure how the Bucs manage to fix this in the homestretch of the season. McCown is McCown, and the linemen aren't committed — or are not capable — of consistent physical football.
Joe will hope for a miracle awakening. The home fans could use one tomorrow.