What To Make Of McCown Promotion
November 5th, 2014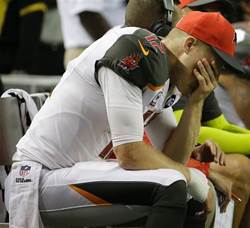 As Joe sits tapping on his keyboard wondering if Charlie Christ will next run for governor as a Libertarian or representing the Green Party (Charlie's running out of parties), Joe also wonders what the hell is going on at One Buc Palace?
Once again, the quarterback of the future is relegated to the quarterback of the past but not the quarterback of the present. Joe has never seen such disarray with the Bucs. Not when Raheem Morris was chest-bumping folks down three scores, not when Greg Schiano was surrounded by the MRSA.
At least last year when the Bucs stunk, folks could always say Schiano was a college guy over his head. Bucs coach Lovie Smith, however, is an 18-year NFL veteran who once took a team to the Super Bowl.
Joe never dreamed the Bucs would have hit rock bottom as they have now, a trainwreck in every regard. Not with a guy like Lovie at the helm.
But here we are. A dismal team that finds a new way to lose each and every week now decides to bench the quarterback hailed before the season as a future savior — the guy also responsible for the Bucs' lone win.
Benched for a guy Lovie once thought so much of he cut him in favor of Jason Campbell.
The only sensible thought is that Lovie is desperate for a win and has resorted to grasping at straws. One would have to be beyond desperate to think McCown is the guy to lead this team out of the NFL abyss; he's one of the reasons the Bucs are there to begin with, thanks to his garish turnovers.
Joe is the kind of a guy who believes that if you can't make the playoffs, then make the draft: Lose. (No, that doesn't mean Joe roots against the Bucs when the whistle blows.) Of course, this is contrary to every piece of DNA in a player or coach's body; but if you press a front office type who is secure in his job, they won't lose sleep over a better draft slot.
Joe isn't getting a vibe the Bucs want to draft a quarterback early next year.
Of course, Team Glazer may have different ideas. Let's not be naive: It is well-chronicled that Team Glazer jettisoned the best coach in franchise history and the lone coach who got the Bucs a Super Bowl win because he wouldn't draft — or couldn't develop — a franchise quarterback. That's what started the current Bucs mess to begin with.
If Team Glazer can run Chucky, then they could run anyone who refuses to follow orders. And to be more frank, since that cold Friday evening in January 2009 when Chucky was thrown out of One Buc Palace with three years left on his contract, this team has been a regular laughingstock of the NFL.
The facepalm chuckling continued yesterday.