Verner Out With Hamstring; Stocker Has Bad Hip
November 5th, 2014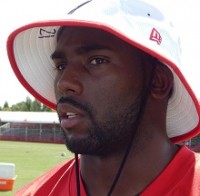 The Bucs' injury list is growing again.
And Joe suspects Julio Jones and the Falcons' dangerous receiving corps is smiling.
Alterraun Verner missed practice today with a bad hamstring, Lovie Smith said. Keep in mind Verner was out for weeks in training camp with a bad hammy. It's unclear whether it's the same leg.
Starting left tackle Anthony Collins missed practice again "nursing" a bad foot, Lovie said, and Luke Stocker also is on the shelf with a bum hip. Doug Martin (ankle) is still out.
That Verner injury is troublesome with the Falcons lurking. They're not good, but they can still put up points.
The last time the Bucs missed a starting cornerback, Johnthan Banks, Baltimore lit them up.