Lovie Claims Glennon Was "Great"
November 5th, 2014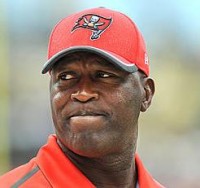 Bucs coach and overlord of football operations Lovie Smith has yet to address the local pen and mic club today — he will shortly — but he did speak with the Atlanta pen and mic club in his required Wednesday teleconference with media covering the opponent.
Lovie hinted that part of the reason Josh McCown was reinstated as the starter (in place of the quarterback of the past and the quarterback of the future but not the quarterback of the present) is becuase he was the starter previously and is now healthy enough to throw the ball, types D. Orlando Ledbetter of the Atlanta Journal-Constitution.
"I think whenever you make a change at any position it has an impact. But you hope the impact won't be that much. That's just a part of it. Each week, very few teams have the same rotation each week. I know that the quarterback position is really important. . . .I just look at it as being able to get the best available guy in there and feel good about him being able to lead our team. That's where we are right now. Josh was our starter before he went down with an injury. He's healthy now. Mike (Glennon) did a great job when he was playing. We are just moving in that direction."
So Glennon did a "great job" but has been benched, maybe for good. Right.
You know, Lovie would get a lot of respect from the public if Lovie just came out and said he is grasping at straws for a win and that Glennon is unable to do that (even though he got the Bucs their lone victory this season).
Trying to con people into believing a guy is "great" but is benched is arrogant, obnoxious and, frankly, fraudulent to those buying tickets and loyal fans, much less to Glennon himself.
Players who do "great" do not get benched. Simple as that.
Joe feels sorry for the next player Lovie calls "great." Dude might want to start looking for the exit signs.